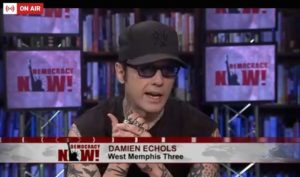 I am reading Damien Echols memoir called Life After Death. It details his life growing up in poverty and time spent on Death Row in Arkansas. He credits Johnny Depp for saving his life.
It is a hair raising account of a man on death row (he was put there because of evangelical right wingers who pegged Damien as a cult satanist), and was raised in extreme poverty. It is an emotionally intelligent glimpse into horror and fear. 
I am against the death penalty at all cost, but this shows the many who are executed– and are innocent of the crime. Also, how the lack of rehabilitation within the For Profit Prison system begets murderous psychological mindsets.
I believe the success of the memoir Angela's Ashes rests on Frank McCourt's ability to tell the story without victimizing himself or his family. I see the same talent here.
"Most of the people on Death Row are here for no other reason than that their case got more publicity than others. The difference between a man receiving a prison sentence and a man receiving a death sentence could be decided by nothing more than a slow news day." from Life After Death by Damien Echols
Again, from Damien Echols: "I've seen them at their best; I've seen them at their worst," he said. "I've seen them laugh; I've seen them cry. And strangely enough, it was these guys that they're getting ready to execute — the ones that the local politicians will tell you are irredeemably evil; they can't be saved or redeemed — these are the people who showed me more kindness, compassion and generosity than any of the good people that are trying to kill them ever did."
The situation in Arkansas is as follows, in this moment: Damian Echols on Democracy Now: