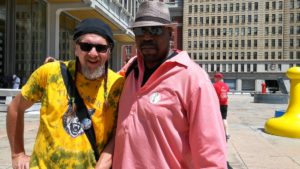 I love Independent Media. I outlined all the shows I love on another blog post. I no longer watch CNN, MSNBC or Fox News. However, even Fox covered Bernie Sanders more in the primary than CNN or MSNBC combined. We cancelled our cable after the Democratic Convention. I also left the Democratic Party at that time.
Last night's Freedom Friday Show, created by Tim Black of Tim Black TV dot com, was one I had the opportunity to watch. I texted my friend Lori to watch, too. I will post the show at the end of this post.
Naturally, the topic throughout the night was Syria, and people's various perspectives on the situation. Each person offered a different take, and there were many callers last night. 
Tim offers a gift to his supporters and listeners with all his shows, but Freedom Friday in particular is a sounding board for people who could easily fall into a deep depression over the state of the world, if not for this venue for expression. The only thing Tim requires is: No Hate Speech. If a caller resorts to this, Tim immediately cuts them off.
Tim delivers short videos on the news of the day each day. On Monday nights, Tim and HA Goodman present "No Sell Outs." Tuesday and Thursday nights, Tim interviews progressives who make a difference in the American political sphere. Freedom Friday is a culmination of everything he presented throughout that week. 
Tim exudes an aura of goodwill and honesty. Sometimes what he has to say is painful, but he is a truth teller, as he often says about his approach to politics, and life itself. 
Here is a repeat of last night's show: