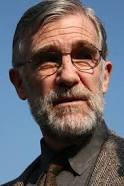 We had the pleasure of going to a talk today given by Ray McGovern, former CIA operative and counsel to Presidents Kennedy, Reagan and George H W Bush.
     As a result of his experience watching US Imperialism first hand, he is now a committed Anti-War Activist.
     Ray McGovern leads the "Speaking Truth To Power" section of Tell The Word, which is a publishing arm of the ecumenical Church of the Savior in inner-city Washington. He currently teaches a course called "On The Morality Of Whistleblowing," at the Servant Leadership School.
     He gave us the following statistic: USA holds 50% of the world's wealth and is 6.5% of its population.
     He said Americans have a responsibility to pay attention to the horrors of war. For instance, in WW2, 27 million Russian people were killed, as compared to 850,000 Americans. You can see why Russia is not buying all the war mongering coming from the Democrats and Mainstream Media.
     The refugee crisis is directly related  to the regime change policies of our country. We created it. No one talks about it, not news outlets, not our elected officials.
     We have a responsibility to help refugees in our communities, and we must do everything in our power to face the suffering they have had to endure.
     We must not turn away.