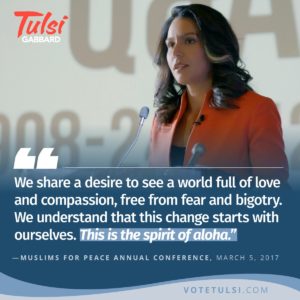 One of my friends recently told me that the biggest Antiwar Movement in America happened during WW1, led mostly by women. 
In this exact moment in time, becoming an Antiwar activist entails becoming a lie detector. We automatically separate the wheat from the chaff. Anyone who joins the movement is repelled by neocons and neo liberals. We can't be hoodwinked by the Corporate democrats who are faux appalled by the immigrant ban, yet support Trumps bombing airfields with tomahawks on April 6 and beyond.
Hillary Surrogates like Howard Dean and Neera Tanden are calling for Tulsi Gabbard, member of Hawaii Congress,  to step down because she is anti war and against regime change. Tulsi is on the right side of history. She is an Iraq War Veteran. She has seen the consequences of war and wants to be sure others won't have to.
Here are some of her recent tweets:
No leader–of either party, for/against US intervention–should let POTUS escalate another regime change war without congressional approval.

— Tulsi Gabbard (@TulsiGabbard) April 11, 2017
Some of my friends never came home from Iraq war; we have the duty not to allow lies/speculation to drag us into regime change war again.

— Tulsi Gabbard (@TulsiGabbard) April 11, 2017
Those who've declared Trump a habitual liar now vilify those refusing to blindly follow him into another regime change war. Hypocrisy.

— Tulsi Gabbard (@TulsiGabbard) April 10, 2017
Establishment: Resist, resist, resist! Except when it comes to waging war on Syria. #ResistTrumpsWar

— Tulsi Gabbard (@TulsiGabbard) April 10, 2017
Have we not learned from Iraq and Libya? The road to hell is paved w/ good intentions. Escalation means more dead children, more refugees.

— Tulsi Gabbard (@TulsiGabbard) April 7, 2017
Tulsi Gabbard was a Bernie Sanders Surrogate and is highly revered amongst his supporters. We hope she will run in 2020 for President.
If she does, Trump will lose. If a Corporate Dem is chosen to run in the ilk of the Clintons, or Clinton herself, Trump will win.
Meanwhile, let us join together and with Tulsi to resist all war. We will sleep better at night if we do.